2018 WHISTLE STOP QUEEN OF HEARTS GAME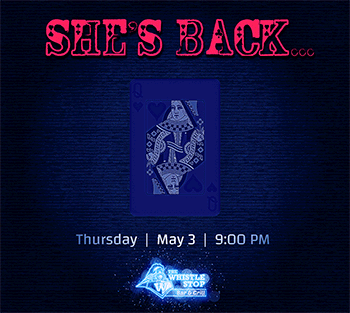 GAME START: Thursday, May 3, 2018.
–
TICKET SALES START: Monday, April 23, 2018
–
STARTING POT: The starting pot will be $144,000, which was the carryover from the last Queen of Hearts game.
–
COST: Tickets are $5.00 each and will be sold during normal business hours. Ticket sales will stop at 8:45 PM on the night of the drawing.
–
DRAWING TIME: Held each Thursday (unless otherwise announced) at 9:00 PM EDT.
–
PERCENTAGES: A Queen of Hearts winner receives 80% of the total purse if present or 40% if not present. The remaining 20% or 60% will start the next QoH game. If the ticket drawn is not the Queen of Hearts, that invididual will receive 10% of the total purse if present or 5% if not present.
–
NOTE: The Whistle Stop does not profit from the game itself. All money paid into the game must eventually be paid out of the game.
PLEASE READ THE FULL SET OF RULES SURROUNDING FOR THE 2018 QoH GAME: